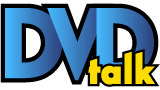 List Price: $29.93 [Buy now and save at Amazon]
---
Just when you thought it was safe to stay out of the water again.






What, Leatherface is giving you nightmares? Don't mess with Texas, and you'll be safely out of harm's way. Pinhead? Put down the puzzle box. Jason Voorhees? C'mon, if you're reading a Blu-ray review in

2018

, you've long since aged out of his crosshairs. Great whites are only a thing in saltwater, so if Jaws left you trembling with terror, just stick to the rivers and the lakes that you're used to. How do you escape carnivorous fish with wings, though? You can't. The original Piranha transplanted a swarming, flesh-eating menace from the Amazon to small-town America. Piranha II: The Spawning takes them out of the water altogether.






I mean, it all comes down to the usual Army/Navy rivalry. A decade and change earlier, the Army had engineered mutant piranha in the hopes of devouring the Vietcong. The Navy rolled its eyes and gave the fuckers wings, thus creating the ultimate killing machine. And, y'know, The Navy, so of course these piranha aren't going to be limited to freshwater when they decide to go for a swim. It's just that the naval supply ship carrying several cannisters of those eggs crashed off the shore of some nameless Caribbean island. And – audible gulp – this tropical island is home to the luxurious Club Elysium, whose guests include one amateur diver after another who just can't resist the siren song of that wreckage.



Dive instructor Anne Kimbrough

(Tricia O'Neil)

warns her boss that something is devouring the tourists and that all water events need to be cancelled tout de suite until they figure out what's going on. The guy practically snorts in her face. Her dive classes are booked solid for days, and the big grunion run fish fry on the beach is right around the corner. Oh, don't sweat it, Raoul

(Ted Richert)

– there'll be a feast with the resort's guests on the beach, alright, but there ain't gonna be any fish on the menu.






Piranha II: The Spawning – or, well, Piranha II: Flying Killers, since this is the longer, international cut – starts off the right way. I mean, three minutes in and you've already been treated to full-frontal nudity, underwater hanky-panky, and a piranha feeding frenzy. Rather than keep that momentum chugging along, there isn't another attack for nearly a half hour, instead introducing dozens of generally pointless characters – like, oh, an aggressively Jewish stereotype on the prowl for a doctor to marry or a stuttering line cook who's duped into giving some freeloaders a boxful of food because titties. Many of 'em have zero material impact on the plot, kind of just vanish after a while, and don't even wind up as piranha kibble when it's all said and done. The satirical edge and inspired casting from Joe Dante's original are chucked out the window, making way for bug-eyed camp and Penthouse pinups. The pacing creaks along. Its sense of humor pretty much never sticks the landing. The movie does its damndest to prevent you from getting a good look at the majority of its creature effects. There's a disturbing Oedipal thing between Anne and her son

(Ricky Paull Goldin)

. Worst of all, the feeding frenzy during the spawning celebration woefully pales in comparison to the havoc from the first movie. In much the same way as there's no payoff to too many of Piranha II's characters, the movie itself kind of stops at the end. No final scare. No tease for Piranha III. Actually, maybe that's okay.






At the same time, you get a charming-slash-intense Lance Henriksen as the island's chief law enforcement, and that's always a check in the 'win' column. If you didn't already know, that it marks James Cameron's first directorial credit might come in handy on Thursday Night Trivia. (And, hey, supposedly the flying fish effects here helped come in handy when realizing Aliens' facehuggers.) There's no shortage of Mo Fuzz-style production values in this cut. Most of the supporting cast is dead air, but I do really love Ancile Gloudon as a dynamite-crazed fisherman native to the island. For crying out loud, the guy squares off against fanged, flying fish with a little tiki torch. It's not exactly a searingly hot take to say that, no, Piranha II: The Spawning is really not very good, but there's something about piranha with wings gobbling up tourists that's irresistible just the same. If you're cursed with my terrible taste, then, yeah, Recommended, especially with as slick as it looks and sounds on Blu-ray.






Video



---

Don't get too hung up on the screencaps scattered throughout this review. A bunch of 'em are awfully fuzzy, yeah, but that's just because I wanted to capture the best shots of the flying piranha that I could, and...errrr, there kinda aren't any. The action's too fast and frenetic to snap clear, crisp stills.






Piranha II: The Spawning had never really gotten the white glove treatment on home video; even Sony's DVD was full-frame and generally terrible looking. Scream Factory, meanwhile, went back to the original camera negative and remastered this sucker in 2K. This Blu-ray disc marks the sequel's first widescreen release on these shores outside of theaters. The presentation is immaculate: no flecks of dust, no nicks, no scratches, no nothin'. Its fine, filmic texture looks terrific, free of any artifacting or distracting filtering. Its colors pack a wallop, depending on the scene. Some of the daylight exteriors are bright and sunny, while others are a touch overcast and dial down the palette accordingly. There are plenty of times when I found myself struck by just how crisp and detailed Piranha II can be. The photography does favor a bit of a soft, diffused glow at times, and I guess a few of the setups were rushed enough to keep the image from entirely being in focus.



High definition eye candy it's not so much, but longtime fans of Piranha II will undoubtedly find this disc to be a straight-up revelation, and I'm definitely left with the sense that it's a faithful presentation and as strong as the original elements could allow. Piranha II: The Spawning is presented at its theatrical aspect ratio of 1.85:1, and the movie and its half-hour of extras get to lounge around on a dual-layer platter.






Audio



---

Presented in two-channel mono, Piranha II: The Spawning's 24-bit DTS-HD Master Audio soundtrack completely eclipses whatever I went in expecting to hear. The score by Stelvio Cipriani particularly shines, with its slicing strings cutting like an aural knife. Bass response is frequently robust, again courtesy of the score as well as some standout effects, such as the ancient rhythm leading up to the climactic feeding frenzy. A bit of strain shows in more loudly shouted lines, but the film's dialogue generally sounds great, if a touch low in the mix for my tastes. There's no intrusive background noise to fret about, nor are there any overt flaws to point out whatsoever. Scream Factory has delivered as perfect a presentation as I could hope to hear.






The only other audio option is a set of English

(SDH)

subtitles.






Extras



---

I've read so many surreally amazing stories about the production of Piranha II: the way it churned through directors, with Jim Cameron only lasting a couple of weeks, Lance Henriksen buying his uniform off a passing waiter since his actual wardrobe looked so dreadful, filming in an operational morgue with actual corpses just inches away, Rob Bottin – shortly before astonishing audiences the world over with his inventive creature effects in The Thing – briefly being attached, and the whole experience being nightmarish enough to inspire a recently-axed Cameron to dream about being chased by malevolent machines and spawning a long-running franchise in the process.






By comparison, this disc's pair of interviews are kinda mundane.





One Moment in Time (16 min.;

HD

): Actor Ricky Paull Goldin speaks about awkward sex-ish scenes and taking over Montego Bay with his hundred-strong feature film family in the first of these interviews. Among the highlights are working under a deeply methodical James Cameron, throwing the fish from that hotel bed gag back into the ocean himself, how bruised he wound up being from flinging himself around on a boat in the finalé, and that the effects that were so unnervingly convincing on-set wound up looking generally lousy on the big screen. You could make a drinking game out of this, taking a shot every time Goldin mentions that he was sixteen, but your liver will thank you if you don't.




The Sky Has Teeth (14 min.;

HD

): Piranha II didn't mark the first time that Brian Wade had worked with James Cameron, and it certainly wouldn't be the last. Here, he speaks about staying up all night translating Cameron's beautiful mutant fish drawings to life, and I have to say that "Piranha Sculptor" is a pretty awesome title for a nineteen year old to have. Though Wade wasn't part of the team involved in actually executing those effects on-set, he does speak to his favorite sequences and standout creature scenes.





Theatrical Trailer (16 min.;

SD

): Last up is a trailer that's technically presented in 1080i but has been upconverted from an extremely low resolution source.





The cover is reversible, showcasing alternate theatrical poster art from back in the day.






The Final Word



---

It's kind of a drag that the Collector's Edition that Scream Factory originally teased was not able to come together, but still...! Piranha II: The Spawning, lovingly remastered in high-def and presented in widescreen for the first time in decades. I mean, the movie's still...whew, yeah, and it's light on extras, but damned if I'm not excited anyway. Recommended, at least as long as you know what you're getting yourself into.




---
C O N T E N T

---
V I D E O

---
A U D I O

---
E X T R A S

---
R E P L A Y

---
A D V I C E
Recommended
---
E - M A I L
this review to a friend
Sponsored Links
Sponsored Links